Quando:
8 novembre 2017@20:00–10 novembre 2017@23:45
2017-11-08T20:00:00+01:00
2017-11-10T23:45:00+01:00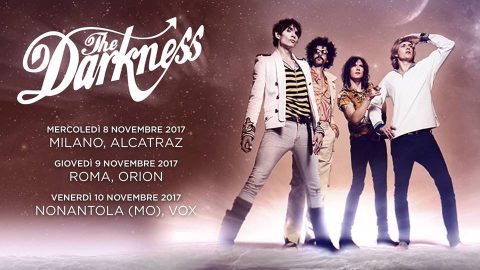 The Darkness tour europeo 2017
I Darkness tornano nel nostro paese il prossimo autunno/inverno, per salire sul palco e divertire il pubblico con la loro musica selvaggia e vintage influenzata da Led Zeppelin e Queen su tutti.
I fratelli, Justin Hawkins (voce e chitarra) e Daniel Hawkins (chitarra) si trovano a Londra quando si imbattono nei loro amici d'infanzia, Frankie Poullain (basso) e Ed Graham (batteria), così nascono i Darkness. Gli esordi li vedono suonare esclusivamente nei pub, ma le loro tute attillate, i loro notevoli assoli di chitarra e il loro essere sopra le righe procura loro ben presto una certa popolarità.
"Last of Our Kind" è il loro quarto e ultimo album in studio, prodotto dal chitarrista Dan Hawkins, pubblicato il 1º giugno 2015 dalla Kobalt Label Services. È il primo e unico album del gruppo che vede la partecipazione della batterista Emily Dolan Davies, che ha sostituito Ed Graham alla fine del 2014.
The Darkness tour europeo 2017 – I Dettagli:
8 novembre Milano, Alcatraz – Evento Facebook –link
9 novembre Roma, Orion – Evento Facebook – link
10 novembre Nonantola (MO), Vox Club – Evento Facebook – link
Il nostro Live Report fotografico dei Darkness a Roma nel 2016 – link