Quando:
16 marzo 2018@20:00–18 marzo 2018@23:45
2018-03-16T20:00:00+01:00
2018-03-18T23:45:00+01:00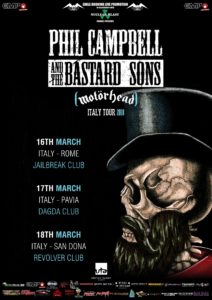 Phil Campbell and The Bastard Sons in Italia.
Dopo la trionfale esibizione tenuta la scorsa estate alla Festa Bikers di Cologno al Serio torna finalmente in Italia Phil Campbell, il leggendario chitarrista dei Motörhead, insieme ai suoi Bastard Sons. L'artista ed i "suoi" terranno tre spettacoli lungo tutta la penisola in seguito alla pubblicazione di "The Age of Absurdity", album che vedrà la luce il prossimo gennaio via Nucleart Blast. La Band promette tre spettacoli mozzafiato con una grande componente classica ed old style, oltre ai grandi classici dei Motörhead.
Phil Campbell and the Bastard Sons live: i dettagli:
Venerdì 16 Marzo 2018 Jailbreak – Roma
Sabato 17 Marzo 2018 Dagda – Retorbido (PV)
Domenica 18 Marzo 2018 Revolver – San Donà di Piave (VE)
Pagina Facebook ufficiale > link
Biografia dell'artista nelle nostre News > link