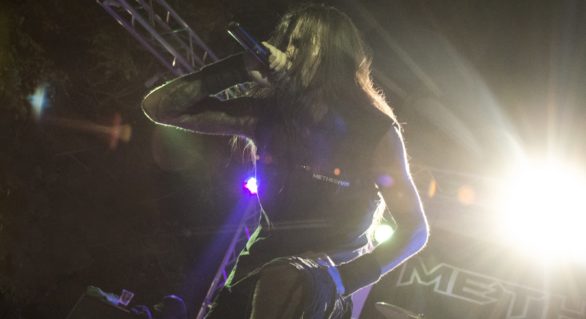 Rometal Fest 2017 – 2° giornata: La seconda giornata è diversa dalla precedente. Estrema. Infatti sul palco troviamo molti gruppi (non tutti) in stile death/thrash.
Si parte anche oggi con un gruppo di casa, i Rebürn. Il loro è un thrash rozzo, stile Pantera, soprattutto il cantante che a tratti sembra copiare Phil Anselmo. Spiace dire che, anche se i Pantera sono un gruppo di riferimento per molte altre band, quello della band di apertura è un thrash poco originale, nulla di nuovo.
Il secondo gruppo sembra essere più interessante. Sul palco troviamo i Neurosphere (sempre Roma) con il loro death metal melodico che ricorda molto i vecchi In Flames ed i Dark Tranquillty con sfumature thrash. Praticamente il loro sound si rifà a quello che è lo "standard" dei gruppi death melodici. Canzoni molto lunghe ed elaborate con musicisti, perfetti sotto ogni aspetto, precisi.
Il prossimo è un chitarrista, Massimo Canfora (ancora Roma) che ha appena messo su il suo progetto solista, dal nome Mc Vision. Inoltre, è anche il chitarrista della Iron Maiden tribute band The Prowlers. Non avevo mai avuto l'occasione di sentirlo da solista e devo dire che mi ha letteralmente sorpreso. La sua tecnica è velocissima, come pochi chitarristi in Italia. Naturalmente il suo stile si ispira a molti mostri sacri come Steva Vai, (del quale esegue anche un pezzo), Joe Satriani, e Paul Gilbert. Bravissimi anche i musicisti che l'accompagnano. Forse poco attinente alla serata, ma va bene uguale.
Andiamo avanti con i Wolfear (Eboli). Un thrash/groove pesantissimo. Ogni brano è effettivamente pesante e mi risulta difficile distinguere l'uno dall'altro. Eseguono anche una cover dei Gojra che non conosco, ma non mi è sembrata malaccio. I ragazzi sul palco ci sanno fare, però ripeto, si tratta sempre dello stesso stile riffato e ripetuto.
Purtroppo anche in questa giornata i tempi sono brevi ed entro una certa ora bisogna staccare tutto, quindi le scalette vengono tagliate.
Il prossimo è un altro progetto a nome solista, Giulio Rossi (chitarrista della band umbra Synthesis) e la sua band. I brani della Giulio Rossi Group sono tutti strumentali, come lo erano quelli di Massimo "Mc Vision" Canfora, solo che Giulio ha uno stile più hard rock, alcuni pezzi mi ricordano Hendrix e Led Zepellin. Molto bravo, meno tecnico ed iper veloce di Massimo, ma con uno stile molto originale.
I successivi a salire sul palco sono i S.R.L., si, proprio Società a Responsabilità Limitata (Terni). Il loro è di base heavy metal, misto ad un po' di thrash, un po' di prog, un po' di death e con testi sono in italiano. Devo dire che non mi sono dispiaciuti affatto, anzi, niente male, un misto tra Metallica e Judas Priest (ma va'? – ndr).
Siamo arrivati agli ultimi due gruppi della serata, quelli tosti. I primi sono i Lapida (romani) con il loro thrash rozzo e iNNIOrante alla Slayer, danno legnate per tutto la durata dello show; violenza pura. Il cantante, Federico urla come un assatanato, Alex, il batterista picchia come un fabbro, mentre il chitarrista (Condanna) e il bassista (Riggio) sono animali, praticamente delle bestie (nel caso che nella vita di tutti i giorni siano invece delle persone urbane e sobrie, entrambi ci scuseranno per la descrizione "artistica" del ns. reporter. Nel caso siano davvero delle bestie la redazione di RBW declina ogni responsabilità ed è anche pronta a fornire l'indirizzo di casa del reporter, alla bisogna, per buona volontà e sopravvivenza – ndr) .
Ed è finalmente giunto l'ultimo gruppo, gli headliner della serata. Prima di parlare di loro è doveroso raccontare che durante il cambio palco abbiamo assistito ad una sfilata di moda (tra l'altro con delle ragazze davvero belle), per sponsorizzare la serata. Le ragazze hanno sfilato anche durante l'esibizione dei Lapida, una cosa molto particolare (non sapremo mai cosa, perché il ns. reporter in quel momento è svenuto per lo shock – ndr).
L'ultimo Gruppo è quello dei Methedras (Monza). Un calcio in bocca a suon di thrash e death stile Exodus, Testament, At The Gates. Il cantante ha un magnifico groove e, pur essendo l'ultimo arrivato, promette bene. Gli atri del gruppo sono bravissimi e massicci. Peccato che, come successo anche alla band headliner della prima serata, i Methedras abbiano dovuto tagliare la scaletta per problemi di orario. Spero che tornino a suonare a Roma al più presto e con un set lungo e tutto loro. Anche questa serata è andata, vediamo alle prossime cosa uscirà fuori.
Rometal Fest 2017 – 2° giornata
Gallerie fotografiche dei gruppi, con setlist e line up
Rebürn @ Rometal Fest 2017
Neurosphere @ Rometal Fest 2017
Setlist
1-Floaters in The Void
2-The Bonestorm
3-Beyond the Gates of Pluto
4-Last Man Standing
Line Up
Fabrizio Oliva: voce, chitarra
Nimma Pietrucci: basso elettrico
Alessandro Rutuolo: chitarra
Marco Mino: tastiere
Marco Lio: batteria
Mc Vision @ Rometal Fest 2017
Setlist
1-Create Your Own Show
2-Juice( Steve Vai Cover)
3-Mc 1
4-Skreamers part 2
5- Trassmission
Line Up
Massimo Canfora: chitarra
Marco Maisano: chitarra
Marco Fiormonti "bassoto": basso elettrico
Gianluca Cantaboom: batteria
Wolfear @ Rometal Fest 2017
Setlist
1-Sail into The Black
2-My Truth
3-Oath Of Destruccion
4-Silvera (cover Gojra)
5-Beyond The Line
6-War Never Changess
Line Up
Simone Ulino: voce, chitarra
Nicolla Fiorillo: chitarra
Paolo Scairato: batteria
Michele Guantino: basso elettrico
Giulio Rossi Group @ Rometal Fest 2017
Setlist
1-Antything Makes Ne Blind
2-Otherside
3-Young Lovers
4-Lenient
5-Orizons
Line Up
Giulio Rossi: chitarra
Samuele Braccone: voce
Gianluca Scassa: tastiere
Patrizio Sarti: batteria
Massimo Evangelisti: basso elettrico
S.R.L. @ Rometal Fest 2017
Setlist
1-La Sentenza
2-Melma
3-Denti Serrati
4-Inerme
5-Cicatrici
6-Penseri Dal Buio
7-Il Funambolo
Line Up
Jerico Biaggiotti: basso elettrico
Cristiano Alini: chitarra
Stefano Clementini: chitarra
Rodolfo Ridolfi: batteria
Francesco Bacaro: voce
Lapida @ Rometal Fest 2017
Setlist
1-Wall Of Death
2-I Will Cut Your Cock
3-Scream Of Pain
4-Time Has Come
5-Fight
6-In Your Face
7-Till Death
8-Violence Explosion
Line Up
Federico La Regina: voce
Alex Mazza: batteria
Condanna: chitarra
Riggio: basso elettrico
Methedras @ Rometal Fest 2017
Setlist
1-Subversion
2-You Got It
3-Deathocracy
4-A Deal Whit The Devil
5-Sham Knockout
6-Thorwn Away
7-Brawl
Line Up
Andrea Bochi: basso elettrico
Daniele Gotti: batteria
Daniele Colombo: chitarra
Tito Listorti Maglia: voce
Gallerie Fotografiche a cura di Magda Red