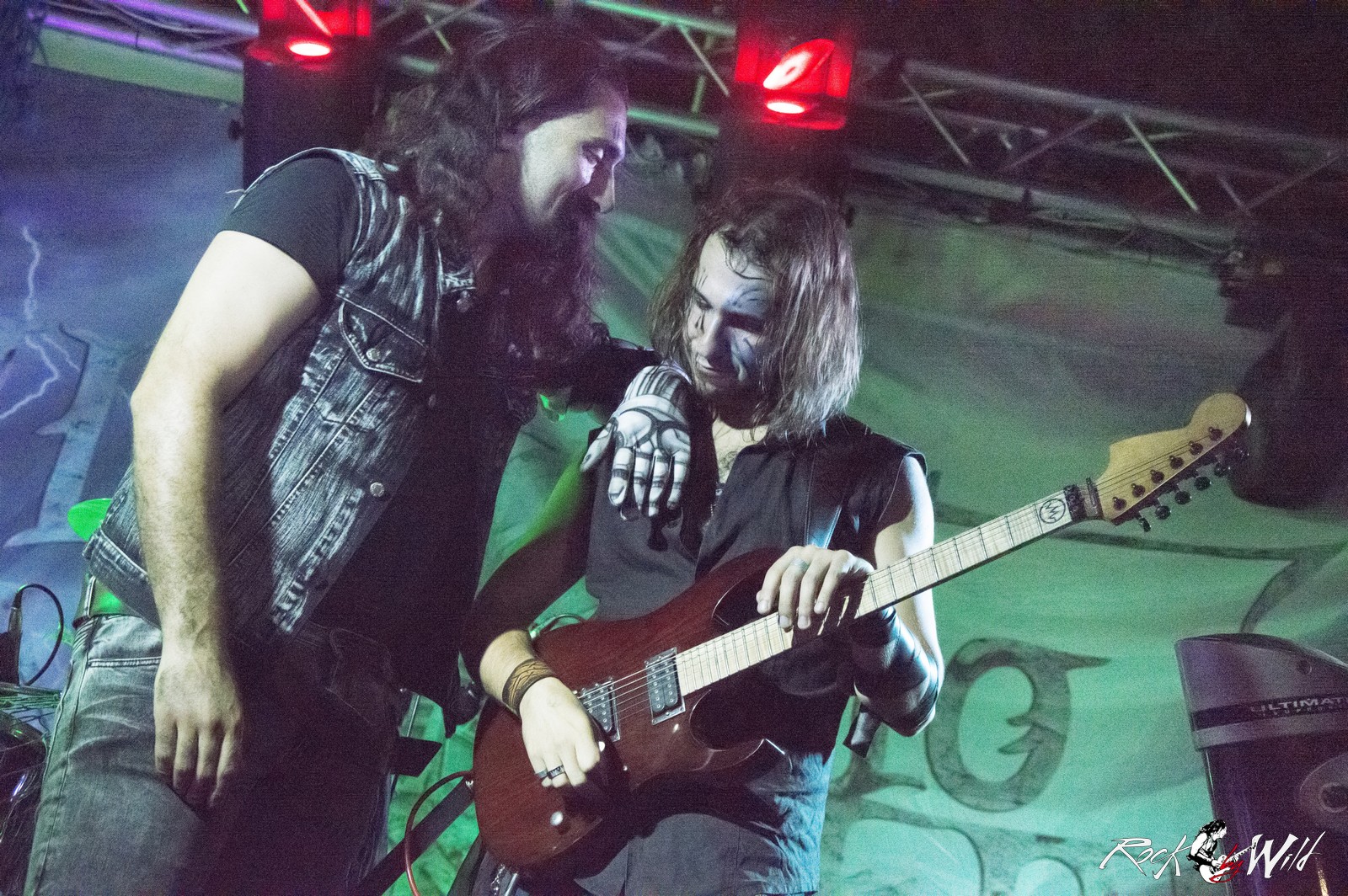 Il Rometal Fest 2017, come ormai da alcuni anni, è uno degli eventi musicali più importanti della capitale, specie nell'ambito del panorama metal underground italiano. Quest'anno i gruppi sono davvero tanti e di tutti generi (e sotto generi), divisi in ben sette serate.
La prima, di fine agosto, è la serata del prog/power metal che ha come headliner proprio uno dei gruppi più conosciuti di Roma, i Sailing To Nowhere. Voglio ricordare che in questo festival non ci sono gruppi della Capitale, ma anche realtà musicali provenienti da un po' tutta la penisola (Arezzo, Bergamo, Caserta, Napoli , Calabria, Emilia Romagna).
Ad aprire il festival tocca agli Ecko, thrash metal band… da Roma. Il loro sound è molto stile Metallica (un po' più melodici su alcuni punti). Non sono riuscito ad apprezzarli particolarmente, ma è comunque appena l'antipasto (anzi, l'ante-antipasto).
Il gruppo successivo è quello dei White Thunder (sempre Roma). Abbastanza più heavy e, per certi versi, rispetto ai precedenti, li ho trovati anche più convincenti.
Invece il terzo gruppo, Inside Mankind  (Arezzo) mi è piaciuto molto, con il loro prog metal stile Epica o Nightwish. La cantante, Claire ha una voce stupenda e potentissima, dalla lirica e dagli acuti bellissimi, voglio fare notare che mentre il microfono era spento ha cacciato un acuto da far venire i brividi. Anche gli altri componenti della band sono stati molto bravi. Pur non essendo il genere che ascolto più frequentemente, sono rimasto molto piacevolmente sorpreso. Bravi.
Si prosegue con The Furies (Reggio Calabria) e si cambia un po' registro. Il loro è un genere power/folk molto simile ai Korpiklaani  (alla lontana, ma è giusto per capirci). Spaziano tra sonorità meno banali, non essendo il "solito" gruppo power ipertrofico. Non male.
Siamo arrivati al penultimo gruppo della serata con gli Uncovered For Revenge (e torniamo a Roma), alternative rock. Torna una voce femminile (dopo tanti irsuti musicanti), anche se differente dalla cantante degli Inside Mankind. Giorgia Albanesi sfoggia uno stile vocale meno epico, ma più portato alla sperimentazione, con forti venature soul e jazz avant-gard. I brani sono molto più semplici e orecchiabili. Anche se la cantante è brava e il gruppo nell'insieme funziona, mi è sembrato ci fosse comunque qualcosa che non andava. Poi ognuno ha i suoi punti di vista ovviamente, forse semplicemente li ho trovati un po' fuori contesto nella serata.
Finalmente è arrivato il turno degli headliner:  i Sailing To Nowhere. Loro non hanno bisogno di presantazioni ormai.
Sono diventati molto noti nell'ambito metal internazionale, aprendo per Stratovarius e Blind Guardian. Devo dire che rispetto alle prime volte che li ho ascoltati live, sono molto migliorati, sopratutto con la nuova formazione. Marco Palazzi ha una voce pazzesca ed Helena è anche lei meravigliosa. Purtroppo durante l'esibizione ci sono stati diversi problemi: prima la voce di Marco non si sentiva, e poi purtroppo il gruppo ha dovuto tagliare metà della scaletta per problemi di orario. Un grande David Folchitto ha accompagnato l'esecuzione del pezzo "Suffering Silence". Nei prossimi giorni vedremo il batterista in azione anche con altri gruppi del festival.
Per concludere devo dire che come prima serata è andata bene, ad esclusione di qualche intoppo con gli orari, quasi inevitabile in eventi del genere. Ci sarà poi tanta altra buona musica metal nei prossimi giorni.
Rometal Fest 2017 – 1° giornata
Gallerie fotografiche dei gruppi, con setlist e line up
Ecko @ Rometal Fest 2017
Setlist
1-Intro
2-No Way
3-My Soul
4-Blades
5-Memories
6-Shell fire
7-End
Line Up
Emanuele Tornatora: basso elettrico, voce
Stefano Cantelli: chitarra solista
Daniele Actemi: chitarra ritmica
Alessio Piotti: Batteria
White Thunder @ Rometal Fest 2017
Setlist
1-Nofear That Reamains
2-Timeless Despise
3-Delph's Oracle
4-Dark Clouds
5-Asilence Remains
Line Up
Alessandro De Falco: chitarra
Jacopo Fagiolo: chitarra
Davide Fabrizio: batteria
Simine Ndiaye: basso elettrico
Mattia Fagiolo: voce
Inside Makind @ Rometal Fest 2017
Setlist
1-Intro
2-Forty
3-Fear
4-Out Of The Lop
5-Sister Death
6-Phariseum
7-Keep Me Bystars
Line Up
Claire Briant: voce
Francesco Monaci: chitarra
Christian lucconi: basso elettrico
Matteo Bidini: batteria
Giuseppe Lo Vascio: tastiere
The Furies @ Rometal Fest 2017
Setlist
1-The Crusade
2-Like The Moon And The Sun
3-We Will
4-Sound Of A Warrior
5-Skyrim
Line Up
Rocco Condello: basso elettrico
Mario Stivala: voce
Antonio Schippilitti: tastiere
Luca Dromi: chitarra
Rocco Mauro: chitarra
Filippo Lo Vecchio: batteria
Uncoverd For Revenge @ Rometal Fest 2017
Setlist
1-Canit Be Saved
2-Ingnorance
3-If You Wait
4-The Rise Postcard
5-Tom Boy
6-Such A Biglie
Line Up
Giorgia Albanesi: voce
Stefano Salvatori: chitarra
Daniele Sforza: basso elettrico
Matteo Salvatori: batteria
Sailing To The Nowhere @ Rometal Fest 2017
Setlist
1-Scream of The World
2-Ghost City
3-Fight For Your Dreams
4-Apocalypse
5- Suffering in Silence (David Folchitto ospite alla batteria)
6-New life
Line Up
Marco Palazzi: voce
Helena "Taka"Pieraccini: voce
Andrea Lanzillo: chitarra
Emiliano Tessitore: chitarra
Giovanni Noè: batteria
Carlo Cruciani: basso elettrico
Alessio Contorni: tastiere
Gallerie Fotografica a cura di Magda Red